Periodontal Disease Prevention and Treatment

Do your gums bleed when you brush or floss? Many people think a little bleeding is normal, but it's really the start of periodontal changes that can lead to gum disease. Preventing and controlling the spread of periodontal disease may not only improve the health of your teeth and gums, it may also be a major factor in protecting you against other chronic conditions as well. Using correct brushing and flossing techniques daily, combined with regular professional cleanings, can ensure a happy and healthy smile.

Invisalign

With Invisalign you can achieve beautiful smile using clear, removable trays, no more brackets and wires! Patients of all ages find Invisalign to be an easy and convenient way to get the smile you've always wanted!

Dental Implants

Dental implants are the ideal tooth replacement! They look and function just like a natural tooth! We've done hundreds of successful dental implants over the years, resulting in happy patients with beautiful smiles. Implants can be used to restore individual teeth or to keep a denture in place resulting in a more confident and comfortable smile.

Cerec Porcelain Restorations

One of the most exciting advances in dentistry is the Cerec CAD/CAM single visit porcelain fillings. Not all dentist have this capability, however, we've been doing one visit porcelain onlay and inlay restorations for over 10 years! Say goodbye to old metal fillings that darken your smile and can fracture your teeth. Porcelain restorations are ideal versus a plastic composite filling when you need a large area of tooth restored. Porcelain can stand up to tough chewing forces and provides strength to the tooth, plastic composite can't offer the same protection. Check out this quick video to learn more about how we can achieve such great results in one visit!

After Root Canal Therapy & Crown
Before Root Canal Therapy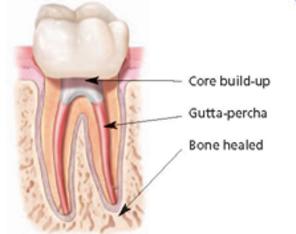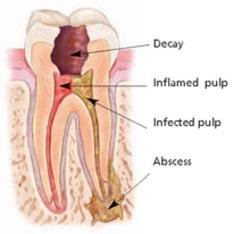 Root Canal Therapy

Root canal therapy saves millions of teeth each year! During root canal treatment, the infected pulp is removed and the inside of the tooth is carefully cleaned and disinfected, the tooth is then filled with a natural rubber-like material called gutta-percha. The last step of a root canal is to crown the tooth, this restores strength to the tooth and protects your investment.

Dr. Scovic and his staff keep up with the most current advancements in dentistry through continuing education. No matter what your dental needs, we have the knowledge, experience and technology to provide treatment right here in our own office, saving patients both time and money. Our office utilizes the latest in Cerec porcelain restorative technology, dental implant surgery, laser dentistry, natural looking metal-free crowns, root canal therapy, denture fabrication and orthodontic treatment featuring Invisalign. We are one of the few practices in the state of Connecticut to offer 3D cone beam imaging to assist in medical diagnosis, oral surgery planning and implant placement. Below you will find information on some of the services we provide.

3D Cone Beam Imaging

Our office is one of the few in the state of Connecticut to offer 3D cone beam imaging to our patients. This technology aids us in the diagnosis of dental issues, assists in the planning of oral surgery and the placement of dental implants.

Dental office in Monroe 06484, Onlays, Inlays , Crown and Bridges, Dental Implants, Root Canal Therapy, Cerec, Same day crowns, Cosmetic Dentistry, Restorative dentistry, Invisalign, tooth colored fillings,
324 ELM ST SUITE 202A

MONROE, CT 06468

203-268-5051